The German market produces roughly 600,000 tonnes of used tyres each year. As tyres are made of various rubber blends, as well as fillers, softeners and chemicals, used tyres must be disposed of properly and in an environmentally-friendly way.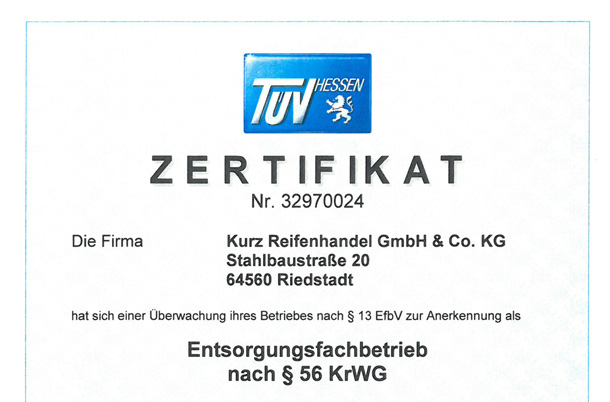 Disposal of Used Tyres - for the Sake of the Environment
Kurz Reifenhandel in Riedstadt – Goddelau specialises in the disposal of all types of tyres. We work in compliance with statutory provisions, and guarantee environmentally-friendly disposal. Quick, reliable and flexible.
Our sophisticated logistics system means that picking up even large amounts of tyres is no problem. You can also bring your used tyres directly to us after making an appointment. We sort usable casings and treaded tyres for further use, and send the rest to be used for heat or materials. Payment is per item, in accordance with our most up-to-date price list – you receive extra for any treaded tyres and casings that can be used again. We exclusively work with recognised pelleting and cement facilities – for the sake of the environment.
So finden Sie uns – 
Anfahrt
KURZ Reifenhandel GmbH & Co. KG
From car and lorry tyres to aeroplane or tractor tyres: we will deliver tyres for all vehicle types – nationally, internationally, small amounts or large container loads. If we don't have the tyres you need in stock, we will make it our mission to find them.
How can we help you? Call us or send us an email.
Contact
KURZ Reifenhandel GmbH & Co. KG
Stahlbaustraße 20 – 22
64560 Riedstadt – Goddelau
Germany